Delivery of the first Tecnam P2002JF aircraft to Hellenic Air Force (HAF).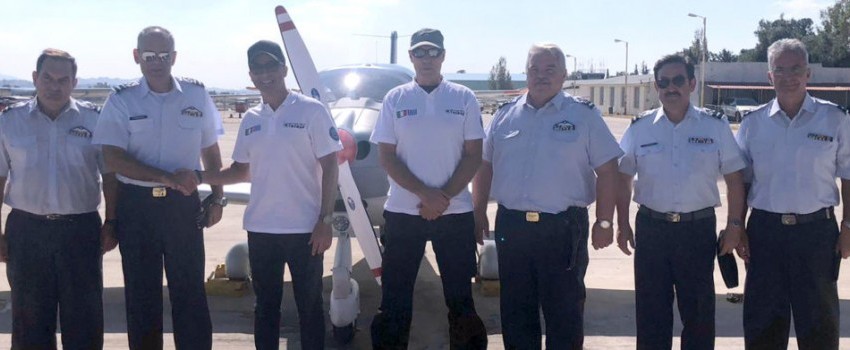 Tecnam announced today the delivery of the first Tecnam P2002JF aircraft to Hellenic Air Force (HAF).
The aircraft was welcomed at the home of Hellenic Air Force Academy at Tatoi/Dekelia (Athens) Air Base by the General Staff of the Hellenic Air Force, in the presence of the Commander of the HAFA Mr John Gkontikoulis.
This is the first of 12 Tecnam P2002JF low wing trainers due to be delivered to the HAF. The order being the result of a thorough and intensive evaluation process.
The delivery flight from Tecnam production facility in Capua, Italy was performed by Tecnam Chief Test Pilot, Massimo de Stefano and Tecnam Global Sales and Marketing Director, Walter Da Costa.
After a stop in Lecce, the flightcontinued over Corfu and Oxia, arriving at HAF base of Tatoi LGTT at 2 pm local time.
The HAF selected the Tecnam P2002 JF as its next-generation screening/primary training aircraft.
In addition to the 12 P2002 JF aircraft ordered, Tecnam will provide a SOFTEK simulator and a computer-based integrated training system with ancillary support services.
The Tecnam P2002JF is a two-seat, single engine, low wing aircraft. Powered by the popular ROTAX 912, and with the latest avionic from GARMIN, it is firmly established as one of world's most popular single engine aeroplanes and the aircraft of choice by so many Flight Training Organisations and Air Forces.
In 2016 Tecnam delivered 8 P2002JF to Argentina Air Force. This fleet has amassed a total of over 6,000 hours and performed 16,000 landings to date.
Walter De Costa,Tecnam Global Sales & Marketing Director says: "We are very proud that after extensive evaluation the Hellenic Air Force selected Tecnam. With delivery today of the first of 12 P2002JF's exactly on schedule, we very much look forward to supporting our friends in Greece for many years to come".
More info on the Tecnam P2002JF
https://www.tecnam.com/aircraft/p2002-jf/
About Hellenic Air Force
The Hellenic Air Force (HAF) is the air force of Greece was formed in 1911. The mission of the Hellenic Air Force is to guard and protect Greek airspace, provide air assistance and support to the Hellenic Army and the Hellenic Navy, as well as the provision of humanitarian aid in Greece and around the world. The Hellenic Air Force includes approximately 33,000 active troops, of whom 11,750 are career officers, 14,000 are professional conscripts (ΕΠ.ΟΠ.), 7,250 are volunteer conscripts and 1,100 are women. The motto of the Hellenic Air Force is the ancient Greek phrase Αἰὲν Ὑψικρατεῖν (Aièn Hypsikrateîn, "Always Dominate the Heights"), and the HAF ensign represents a flying eagle in front of the Hellenic Air Force roundel.
See the news on media:
https://www.haf.gr/2018/10/afiksi-neou-ekpaideftikou-aeroskafous-p-2002jf-stadiou-epilogis-tis/
https://www.defence-point.gr/news/prosgiothike-simera-stin-vasi-tis-dekelias-to-proto-aeroskafos-p-2002jf